I'm so a night owl, come to find out... I've decided to join in the FUN at Fantabulous Cricut Challenge Blog! Below is their Share the Crawl link so that you all can go and check out the fantabulous work the Design Team and others did!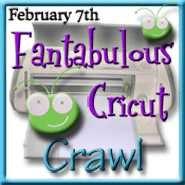 The challenge was to make anything as long as it has the word LOVE in it. And as always with their challenges, their must be at least one Cricut cut on the project!
Here's what I came up with:
 
Supplies:
Sugar and Spice Lite Cart (Love cut @ 2 1/4")
Black Cardstock
Aqua and Dark Pink Cardstock - DCWV All About Girls Cardstack
Black & Pink Heart Cardstock - DCWV Rockstart Matstack
Stickles (Used for ribbon stiching and hearts on upper right corner)
Jewel Embellishments & Champagne Ribbon - Michael's
ATG gun, Glue Dots, Scotch Quick-Dry Adhesive
Hope you all enjoy! Be back tomorrow with another GREAT Wacky Wednesday submission!